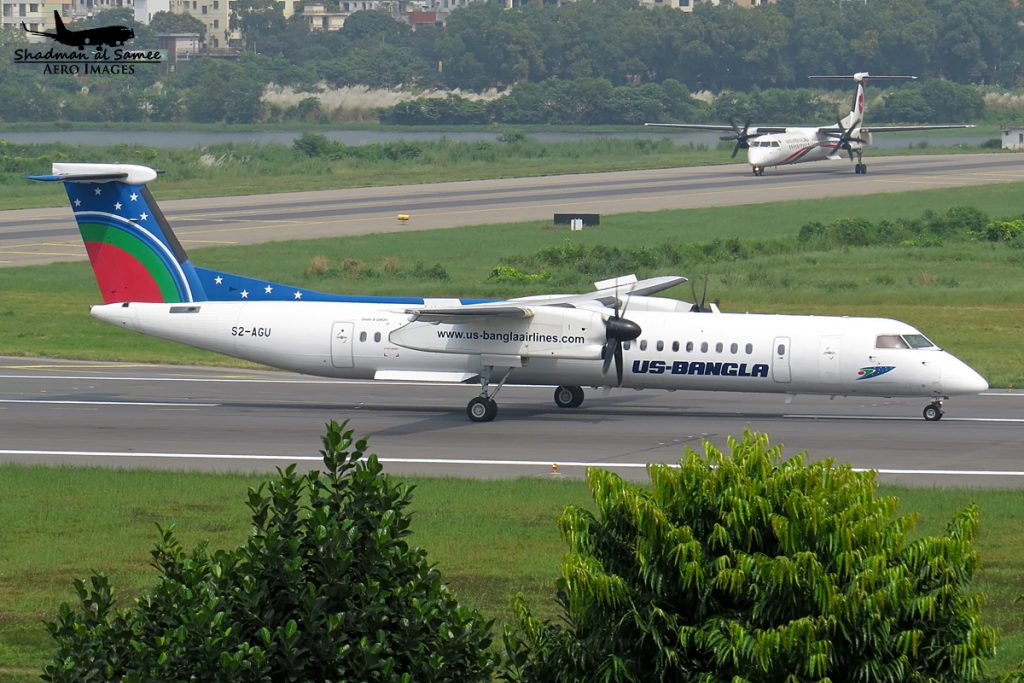 Services of US-Bangala Airlines
                  US-Bangla Airlines is a privately owned Bangladeshi airline headquartered in Dhaka and based at Shahjalal International Airport. The airline is the largest private airline in Bangladesh in terms of fleet size and overall second largest airline after the flag carrier Biman Bangladesh Airlines
            US-Bangla Airlines 
(Bengali: ইউএস বাংলা এয়ারলাইন্স) is a privately owned Bangladeshi airline headquartered in Dhaka and based at Shahjalal International Airport. The airline is the largest private airline in Bangladesh in terms of fleet size and overall second largest airline after the flag carrier Biman Bangladesh Airlines.
Flight Status
              This airline has a fleet that consists of 9 planes, with a majority of them either Boeing, ATR, or Bombardier. The Boeing 737-800 is the most commonly used aircraft by the company, as it is the largest, meaning that it can fit up to 156 passengers and is convenient for long-haul flights. It has become a popular choice among customers as it seats two people per row, rather than three, allowing for customers to have a particularly comfortable and spacious experience. The ATR 72-600 is also a popular choice, with it primarily being used for short flights due to its size.
While US-Bangla Airlines is considered to be primarily based in Bangladesh, the company has four headquarters that are located across the world. Two corporate offices can be found in North America in the countries of Canada and the United States, while there are two offices in Asia that are placed in India and Thailand.
 Refund Policy
        USA reserves the right to make a refund only to the person named in the ticket or to the person
who originally paid for the ticket. Refund will not be entertained if any claim done after the date of
ticket expiry. Ticket issued through any agent must be processed refund by the issuing agent only.
After check-in coupon price shall be fully forfeited and considered as "used coupon" which can not
be used further.
ADDRESS:
Alsa Mall Shopping Complex,
Shop no: 18, (Basement), 149 Montieth Road,
Egmore, Chennai-600008. India
Email :sales.maa@usbair.com
Phone : +91 9831125720
Customer helpline : +91 7603044716, +91 8017160209
DEL
Delhi                                 
CCU
Kolkatha             M T W T F S S                      2,505                                                   5,607
CCUKolkata                           RGNYangon               M T W T F S S                           6,537                                                  1,07,084
CCUKolkata                           BKKBangkok              M T W T F S S                           7,680                                                     78,559
CCU
Kolkata                           CGPChittagong         M T W T F S S                       
7,714                                                 
16,390
CCU
Kolkata                           DXBDubai                  M T W T F S S                     
11,412                                                 
17,891
CCU
Kolkata                           DOHDoha                  M T W T F S S                     
12,226                                                 
52,848
CCU
Kolkata                           KTMKathmandu         M T W T F S S                     
12,448                                                 
19,212
CCU
Kolkata                           SINSingapore             M T W T F S S                     
17,573                                               
2,56,568
CCU
Kolkata                           KULKuala Lumpur      M T W T F S S                     
18,278                                               
1,68,678
CCUKolkata                           RUHRiyadh                 M T W T F S S                      31,190                                                1,44,486