see below all the information about chennnai international airport bus options to and from the central city and around
---
M
ETROPOLITAN TRANSPORT
The Metropolitan Transport Corporation are also known as (MTC Buses )offer transportation from Chennai Airport to city centre.
Once in the city center, passengers can find Chennai Mofussil Bus Terminus are also called (CMBT), which is very well connected with other sites around Chennai and the region. This option is the most inexpensive in terms of transportation, but the disadvantage is the slowest one. There are frequent AC mini bus services from the chennai international airport to (CMBT). Bus departs the driver bus gets full and so there is no fixed schedule or timings .but you can make sure there is atleast on trio every 30 min . the metropolitan transport corporation serve four buses which run on two routes.anna nagar AC bus fares is Rs -35
FARES?
One-way ticket are:INR 38
WHERE CAN I BUY MY TICKET?
Tickets are sold on board to the drivers
HOTEL SHUTTLES
We recommend to check with your hotel if the service is available are not.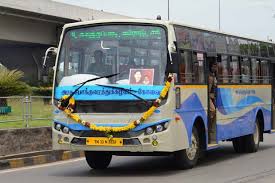 Some hotels around offer free transportation from Chennai international Airport.