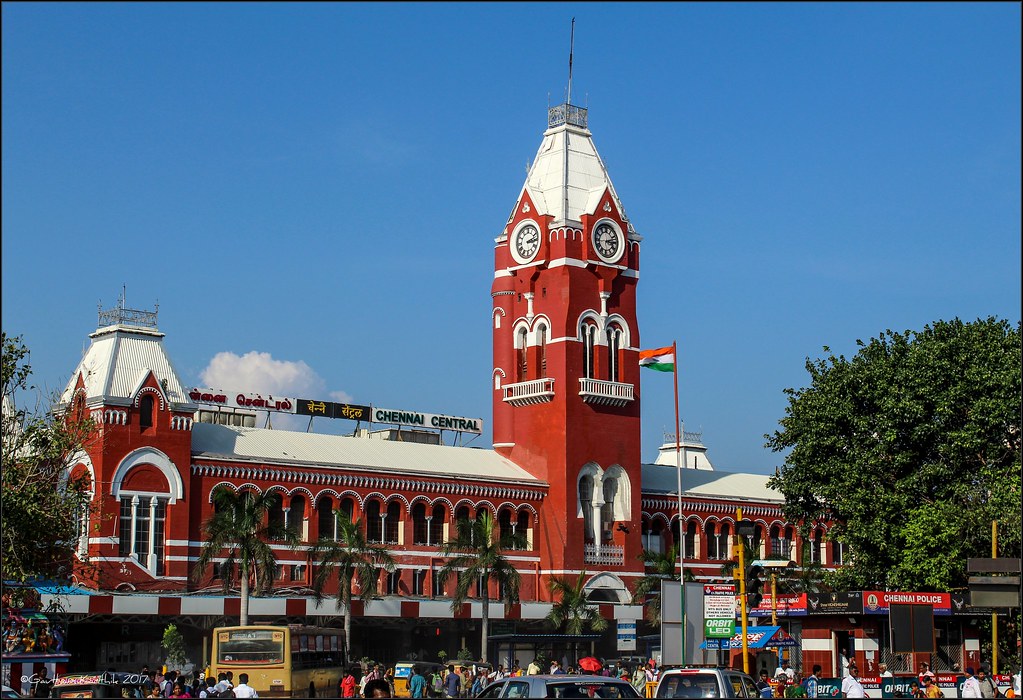 The nearest suburban railway station From Chenani Airport is Tirusulam Station. 
            The (Tambaram-chennai beach route)goes via the some  important station inculding airport (tirusulam RS) ,and Egmore (egmore RS)and chennai central Rail Terminal(Park RS).Apart from that it covers some important Industrail,Business/Retail and Education centers in chennai.The list of station enroute are given below:
Tambaram Sanatorium,
 Chromepet, 

Pallavaram ,

Tirusulam, (Airport)

Meenambakkam, 

Palavanthangal,

St.Thomas Mount, 

Guindy, (Industrial area)

Saidapet, 

Mambalam, (T.Nagar -Retail Business)

Kodambakkam, 

Nungambakkam, (Business, Education)

Chetpat, 

Chennai Egmore, (Rail Terminus)

Chennai Park, (Near Chennai Central)

Chennai Fort,

Chennai Beach
                Chennai Airport doesn't have an own railway station, however, passengers can transfer to the nearest railway station, Tirusulam Station, located 2 km from Chennai Airport. 
The route is Tambaram to Chennai Beach and stops in important stations: Chennai Airport (Tirusulam RS) and Chennai Central Station, among others.
This line connects Chennai Airport with lots of places around. 

For more information about schedules and so on, please visit its website.



HOW TO GO FROM CHENNAI AIRPORT TO RAILWAY STATION (CHENNAI CENTRAL)?
                You can take either a Taxi or a Rickshaw to transfer directly to Tirusulam Station or to Chennai Central Station, where there are available further railway connections.
 
,