CHENNAI AIRPORT(MAA) TERMINALS
Chennai International Airport consists of three terminals:
The Domestic Terminal (Terminal 1)
The international Terminals (Terminal 3 and Terminal 4),
 The old terminal at Meenambakkam (Terminal 1) used for cargo and the two terminals at the passenger terminal complex at Tirusulam (Terminals 3 and 4) used for domestic and international passenger operations, respectively.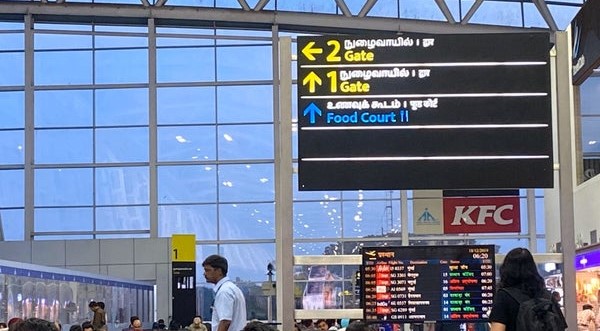 TERMINAL 1
Chennai Airport Terminal 1 is a Domestic Terminal, also called as KAMARAJ DOMESTIC TERMINAL(KDT). 
It serves both domestic arrivals and departures.
This terminal connects Chennai International Airport with 20 different domestic destinations within India.
It was built in 1988. In this terminal you can get all the domestic flights which had two aero- bridges and 48 check- in counters. There are 5 X- ray baggage facilities at domestic terminal. The domestic terminal is connected to the international terminal by moving a walkway it has a total of 9 boarding gates, 6 on the ground floor and 3 on the first floor.
Later, the Anna international terminal (Terminal 3) was built with three aero-bridges. After the completion of the international terminal, the old terminal (Terminal 1) at Meenambakkam was used exclusively for cargo.
Parking bays at the domestic terminal include one in-contact bay for Airbus A300-sized aircraft, nine in-contact bays for Airbus A320/Boeing 737-sized aircraft, and 49 remote bays for A320/737-sized aircraft.
TERMINAL 3
Chennai Airport Terminal 3, also known as ANNA INTERNATIONAL TERMINAL(AIT). Which was built in 1988 after the opening of a domestic terminal( Kamaraj Terminal). It is hub of the International Arrivals.
Terminal 3 connects the Chennai Airport with over 20 destinations worldwide.
In this terminal you can get all international arrival flights. It was built with 3 aero – bridge and it had 45 check -in counters. There are two x-ray baggage facilities at AIT. It has 6 boarding gates on the first floor.
Parking bays at the international terminal include seven in-contact bays for Boeing 747-sized aircraft, 13 remote bays for 747-sized aircraft, one remote bay for an A380 aircraft, and three cargo bays for 747-sized aircraft.
TERMINAL 4
Chennai Airport Terminal 4 is a new international terminal that opened its doors in late 2017.
Recently, the international terminal was extended further west by adding a new block which includes three aero-bridges. At present, the new international block (Terminal 4) is used for departures while the older Anna terminal (Terminal 3) is used for arrivals.