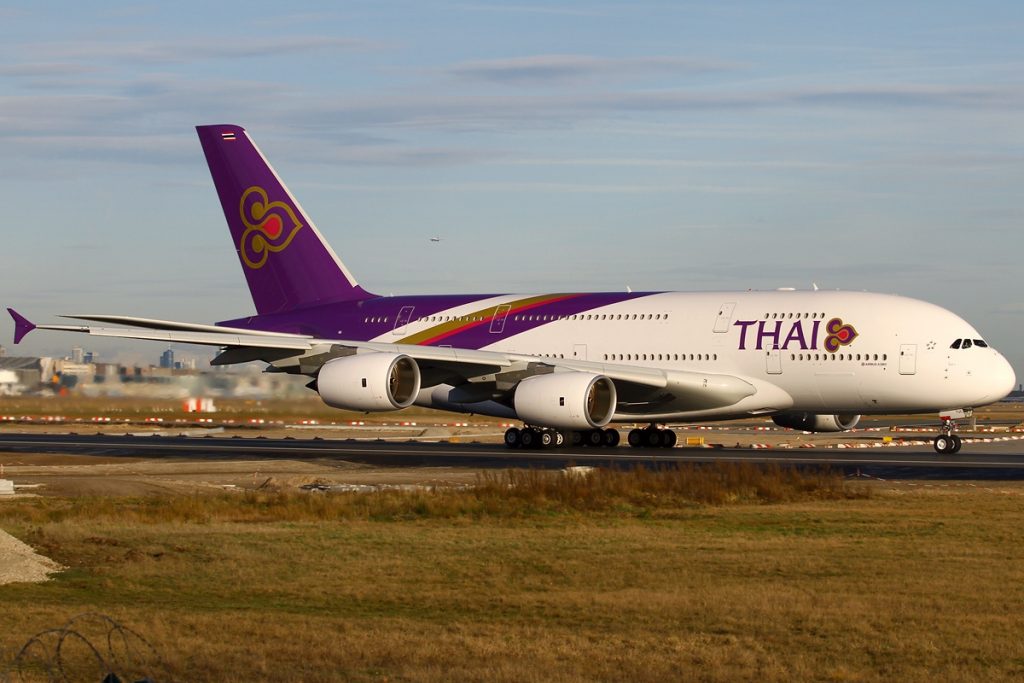 Services of Thai Airways
                    Royal Orchid Lounge at Concourse E can seat 66 Business Class and 22 First Class passengers. It houses a buffet bar with a range of dishes including quick snacks. It has Wi-Fi connectivity along with housing slumber rooms, showers and toilets.
Royal First Lounge at Concourse D can seat 74 passengers at a time. It also has 2 VIP rooms aside from an a la carte dining facility. Shower suites, slumber rooms and Wi-Fi connectivity are among the other facilities.
Thai  Airways
               Thai Airways International Public Co., ltd., trading as THAI (SET: THAI, Thai: บริษัท การบินไทย จำกัด (มหาชน)) is the flag carrier airline of Thailand. Formed in 1988, the airline has its corporate headquarters in Vibhavadi Rangsit Road, Chatuchak District, Bangkok, and primarily operates from Suvarnabhumi Airport. THAI is a founding member of the Star Alliance. The airline is the second-largest shareholder of the low-cost carrier Nok Air with a 15.94 per cent stake (2020), and it launched a regional carrier under the name Thai Smile in the middle of 2012 using new Airbus A30 aircraft.
Thai operate from its main hub at Suvarnabhumi Airport and secondary hub at Phuket International Airport, the airline and its subsidiaries fly to over 101 destinations in 37 countries, using a fleet of 95 aircraft, that consist of wide-body aircraft from both Boeing and Airbus, while the subsidiary Thai Smile operates narrow body aircraft.
Flight Status
                 In order to know the Thai Airways flight timetable of your flight, you can go into the Book page and click on timetable. Here, select whether a one-way or return journey and then go on to enter departure city and the destination city. Further on, enter date of departure, and of returning as well, if it is the case, and click 'find flights'. This will give you the latest.
Refund Policy
Refunds can be made by contacting any THAI city ticketing office. Refunds will be credited back to the credit card or Visa/MasterCard Debit card that was used for   payment, and a refund fee may be applied. However, please be aware that refund processing time of debit card payments may take longer than that of credit cards, as it depends on the process of the debit card issuing bank.
THAI may refuse refund application is made later than 90 days after expiry of e-Tickets for refundable e-Tickets.
ADDRESS:
NO. 62,4th FLOOR,
B wing, kgn Towers, Ethiraj salai,
Egmore.Chennai– 600 105., 
Phone: (91 44 ) 4206 3311
Email:reservations.maa@thaiairwaysco.in , maahf@thaiairways.co.in
Customer help line: (91 44 ) 4206 3344
BOM
Mumbai                           
GAY
Gaya                      M T W T F S S                     
4,899                                               
19,476
CCUKolkata                                 BKKBangkok                  M T W T F S S                   5,236                                               1,53,321
DEL
Delhi                                     
BKK
Bangkok                  M T W T F S S                   8,676                                                2,55,359
BOM
Mumbai                               
BKK
Bangkok                  M T W T F S S                 13,361                                               4,66,578
HYD
Hyderabad                           
BKK
Bangkok                  M T W T F S S                 13,620                                                   76,488
MAA
Chennai                               
BKK
Bangkok                  M T W T F S S                  14,515                                               3,36,643
BLR
Bengalure                             
BKK
Bangkok                  M T W T F S S                  15,442                                               1,41,604
BOM
Mumbai                               
HKT
Phuket                     M T W T F S S                  23,542                                               1,06,891
DEL
Delhi                                       
HKT
Phuket                     M T W T F S S                  24,857                                               3,14,691
DEL
Delhi                                     
AKL
Auckland                  M T W T F S S                   56,580                                               7,62,167