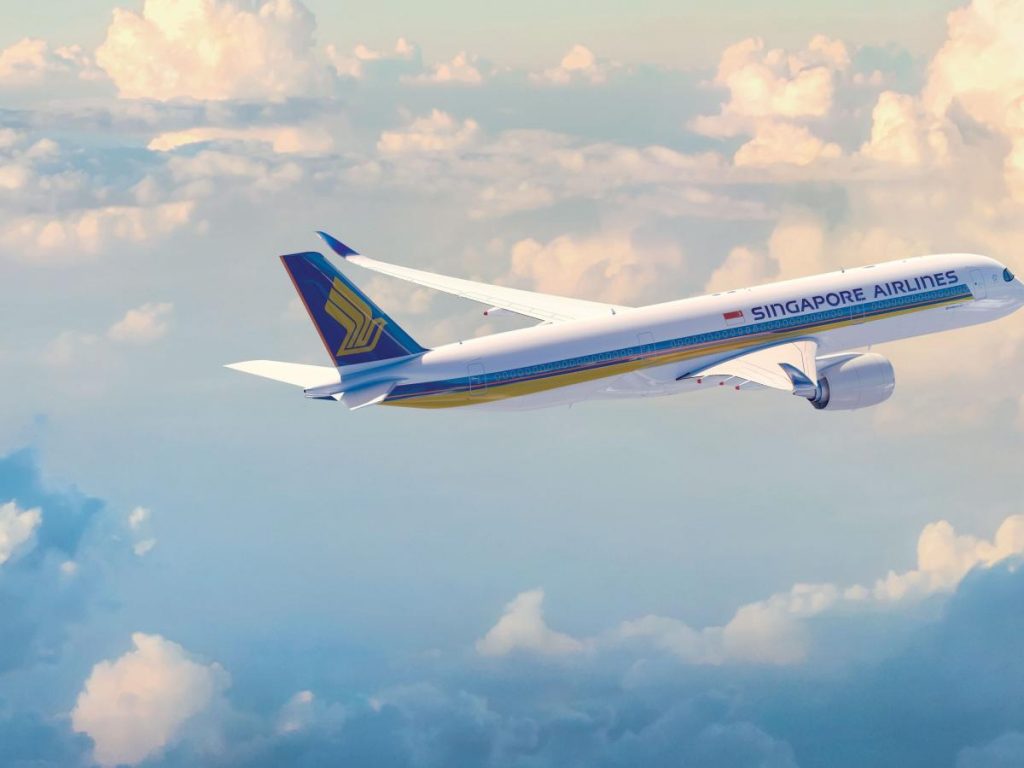 Services of Singapore Airlines
                       Singapore Airlines offers five classes of service – suites, first class, business class, premium economy class, and economy class. Major upgrades to its cabin and in-flight service were announced on 17 October 2006,constituting the first major overhaul in over eight years and costing the airline approximately S$570 million.Initially planned for the Airbus A380-800's introduction into service in 2006, and subsequently on the Boeing 777-300ER, the postponement of the first A380-800 delivery meant it had to be introduced with the launch of the first Boeing 777-300ER with the airline on 5 December 2006 between Singapore and Paris. 
Singapore Airlines
            Singapore Airlines (SIA or SQ) is the flag carrier airline of Singapore, with its hub at Singapore Changi Airport. Notable for using the Singapore Girl as the central figure in its corporate branding, it has been ranked as the world's best airline by Skytrax four times and has consistently topped Travel & Leisure's best airline rankings for more than 20 years. The airline's slogan is "A Great Way To Fly".
Singapore Airlines Group currently has more than 20 subsidiaries, including many airline-related subsidiaries. SIA Engineering Company handles maintenance, repair, and overhaul (MRO) business across nine countries, with a portfolio of 27 joint ventures, including with Boeing and Rolls-Royce
Flight Status
                     In order to know your Singapore Airlines flight status, you can either search by route and enter the route of any Singapore Airlines or SilkAir flight within 48 hours of its arrival and departure. Enter the origin and onward destinations followed by the date of departure or arrival and search. Else you can do a search by flight number where you need to enter the flight number, done supposedly within 48 hours of the arrival or departure. Enter the city name depending on whether it is an arrival or departure, the date and hit search.
Cancellations and refunds
                    You may cancel your Singapore Airlines ticket online for a refund if you've purchased a ticket directly from Singapore Airlines, on a refundable fare.If you cancel a non-refundable ticket, only the taxes will be refunded. The refund will be credited to the credit/debit card used to purchase the ticket. In some instances, a cancellation/refund fee may apply. To qualify for a refund, you must cancel your ticket within the deadline stated on your booking.
ADDRESS:
The Westminster,
1st Floor 108 Dr.Radhakrishna Salai,
Mylapore,Chennai 600004
India
Phone :+91 44 45921921/+91 44 45921901
COKCochin                         MAAChennai                 M T W T F S S                        2,131                                                 4,157
MAA
Chennai                       
SIN
Singapore          M T W T F S S                     7,777                                            1,14,994 
DEL
Delhi                             
SIN
Singapore          M T W T F S S                  11,666                                              2,40,385
BLR
Bengaluru                       
SIN
Singapore          M T W T F S S                  12,560                                             3,44,584
BOM
Mumbai                         
SIN
Singapore           M T W T F S S                  13,770                                             3,81,341
CCU
Kolkata                           
SIN
Singapore           M T W T F S S                  15,369                                             2,56,568
DEL
Delhi                                 
BNE
Brisbane           M T W T F S S                  53,796                                             8,53,900
DEL
Delhi                                 
AKL
Auckland            M T W T F S S                  55,528                                             4,82,781
BOM
Mumbai                           
AKL
Auckland             M T W T F S S                  56,940                                            2,88,334