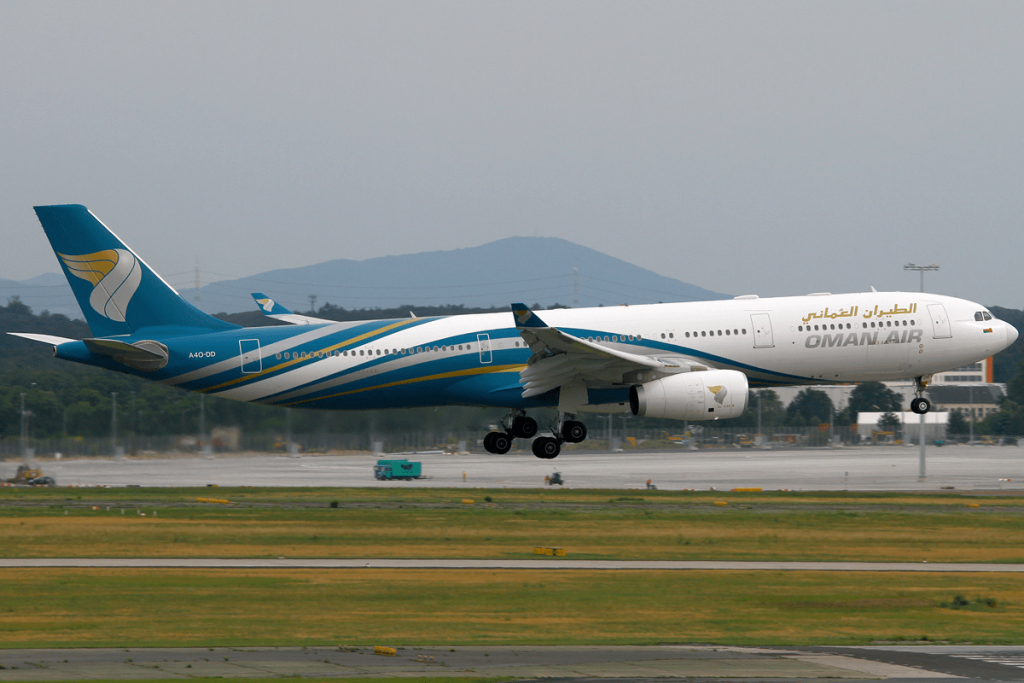 Services of Oman Flights
In compliance with Islamic dietary laws, all meals served onboard Oman Air are prepared according to Halal guidelines. Special meals are available by request. Alcoholic beverages are only available on international flights except for Saudi Arabia and Iran routes, in which alcohol is prohibited in both countries by Islamic law.Airbus A330-300 and Boeing 787 aircraft are equipped with Wi-Fi and mobile network portability on board. The inflight magazine of Oman Air is called Wings of Oman and is available to all classes of travel on both domestic and international flights in both English and Arabic
Oman Airlines
Oman Air provides a wide range of luxury and comfort items to premium passengers and high-quality complementary comfort items to Economy customers and a special gift for young travelers. A lot of informative reading options, fine dining and Wi-Fi is provided in the Economy class while premium customers can enjoy mini-suites with complementary chauffeur services.
Flight Status
In order to check the Oman Air flight status, you need to enter the date of your journey, proceeded by the flight route which includes the starting and onward destinations and check the status. An alternative method is to enter the date of your journey followed by the flight number and get 'flight status'. The best way to check your Oman Air flight PNR status is by entering your date of travel proceeded by the flight number. Then, click on 'flight status'
Refund/Cancellation Policy
Oman Air is the best travel agency in terms of saving money while booking a flight. It offers only all reserved flight service that keeps in touch with the passengers to offer help in many ways. There will be a plan for the booking process and for that, you have to select the non-refundable ticket that will help you in canceling a flight ticket as you want simply. If you have really booked a flight and now you are going to cancel your flight you can do that but for that, you must have to contact Oman Air customer service in order to get the help by many ways.
ADDRESS:
Room nbr 1 Anna international terminal,
Second floor, AIT Departure,
Meenambakkam , Chennai 600 027
Customer help line:+91 44 22566298
Email:aptmaa@omanair.com
HYD
Hyderabad                         DELDelhi                   M T W T F S S                     
2,331                                               
5,771
JAI
Jaipur                                    BOMMumbai             M T W T F S S                     
2,546                                               
9,759
BOM
Mumbai                             DELDelhi                    M T W T F S S                     
2,708                                               
5,581
BLR
Bengaluru                           DELDelhi                    M T W T F S S                     
3,243                                               
6,707
HYD
Hyderabad                         DELDelhi                    M T W T F S S                     
2,331                                               
5,777
JAI
Jaipur                                    BOMMumbai              M T W T F S S
2,546                                               
9,759
BOM
Mumbai                             DELDelhi                    M T W T F S S                     
2,708                                                 
5,581
BLR
Bengaluru                           DELDelhi                    M T W T F S S                     
3,243                                                 
6,707
HYD
Hyderabad                         DELDelhi                    M T W T F S S                     
2,331                                                 
5,771
JAI
Jaipur                                    BOMMumbai              M T W T F S S                     
2,546                                                 
9,759
BOM
Mumbai                              DXBDubai                M T W T F S S                     
7,223                                               
1,07,828
HYD
Hyderabad                          DXBDubai                M T W T F S S                     
7,415                                                 
15,711
DEL
Delhi                                    DOHDoha                 M T W T F S S                     
8,638                                               
1,72,647
MAA
Chennai                              MCTMuscat              M T W T F S S                     
9,017                                                 
65,607
BOM
Mumbai                              MCTMuscat               M T W T F S S                     
9,262                                             
1,17,880
GOI
Goa                                      DXBDubai                  M T W T F S S                     
9,637                                                 
30,931
DEL
Delhi                                    MCTMuscat               M T W T F S S                     
9,794                                                 
81,243
HYD
Hyderabad                          MCTMuscat               M T W T F S S                   
10,804                                                 
31,256
BLR
Bengaluru                            MCTMuscat               M T W T F S S                   
11,565                                                 
36,187
DEL
Delhi                                    KWIKuwait                 M T W T F S S
12,555                                             
5,83,106