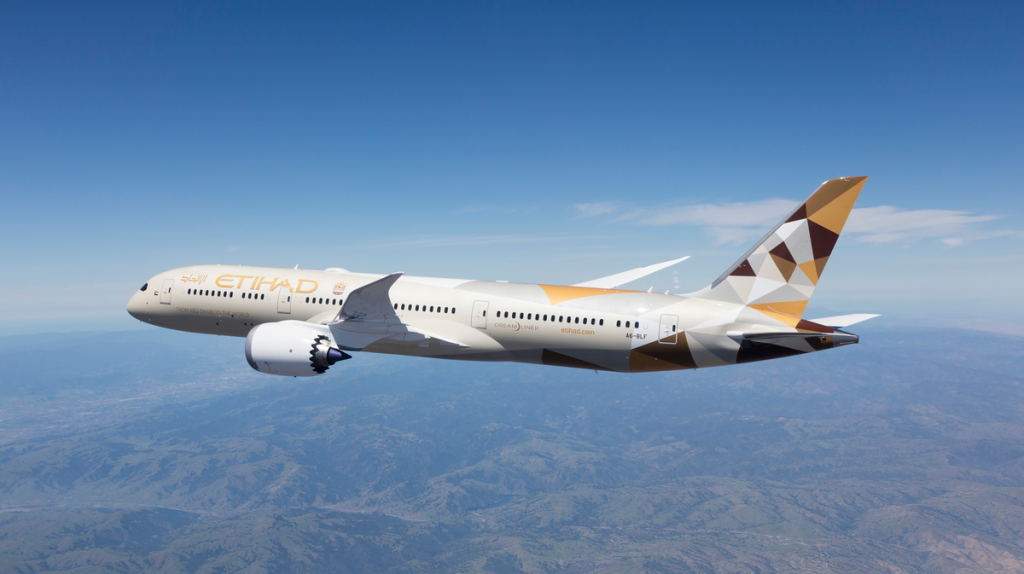 Etihad
Airways
            It is the second flag carrier of the United Arab Emirates.Its head office is in Khalifa City,Abu Dhabi,near to AbuDhabi International Airport.Etihad is founded in the year July of 2003,And Commenced operations in November 2003
Its Headquarters is in Khalifa City,Abu Dhabi,United Arab Emirates.
It's Slogan
From Abu Dhabi to the World,

TheWorld is our Home,You are our Guest,F

lying Reimagined.
The
Services of Etihad Airways
                   At many airports in US and Canada ,Etihad no longer accepts cash payments,you can only make the payments through a credic,debit or payment card,TPay for excess baggage quickly and easily online upto 30 hours before the flight,Stay extras on board to make your journey with us even more enjoyable stay connected with free wifi facilities
Flight Status
                The airline operates more than 1,000 flights  per week to over 120 passengers and Cargo destinations in the Middle East,Africa,Europe,Asia,Australia,AndI North America with a fleet of 102.In addition to that it also operates Etihad Holidays and Cargo,It is the second largest airline in the UAE after Emirates.
 
Refund Policy
            Etihad cancellation policy clearly defines the need for the ticket to be under the refundable categoryin order to process the cancellation and the refund money.The refund that have been requested to follow the terms and conditions mentioned in the tickkets.A time period of 14 to 30 days is taken for the refund amount to be reflected in the bank statement and the bank account. 
ADDRESS
Killi Block,
ITC Grand Chola,
63 Mount Road,
Guindy    600032,
Chennai,
Tamil Nadu.
Tel:1800-22-3901/1800-209-0808
Email:maatkt@etihad.ae
JAIJaipur                BOMMumbai             SMTWTFS                        2,546INR                                             7,217INR
BLRBengaluru        DELDelhi                   SMTWTFS                        2,999INR                                             6,916INR
BOMMumbai          AUHAbu Dhabi           SMTWTFS                       415INR                                                48,016INR
DELDelhi                AUHAbuDhabi            SMTWTFS                       5,995INR                                             18,221INR
MAAChennai          AUHAbu Dhabi           SMTWTFS                       6,105INR                                          1,34,946INR
BLRBengaluru        AUHAbu Dhabi           SMTWTFS                       7,032INR                                             22,250INR
BOMMumbai           LHRLondon                SMTWTFS                       22,086INR                                        1,76,033INR
DELDelhi                 LHRLondon                SMTWTFS                       22,612INR                                        1,29,888INR
DELDelhi                 SFOSan Francisco     SMTWTFS                       35,582INR                                        1,48,170INR
BOMMumbai           SFOSan Francisco      SMTWTFS                      36,707INR                                        1,55,927INR
DELDelhi                 JFKNew York              SMTWTFS                      37,371INR                                         3,00,960INR
HYDHydrabad         SFOSan Fransisco      SMTWTFS                      38,579INR                                         1,56,719INR