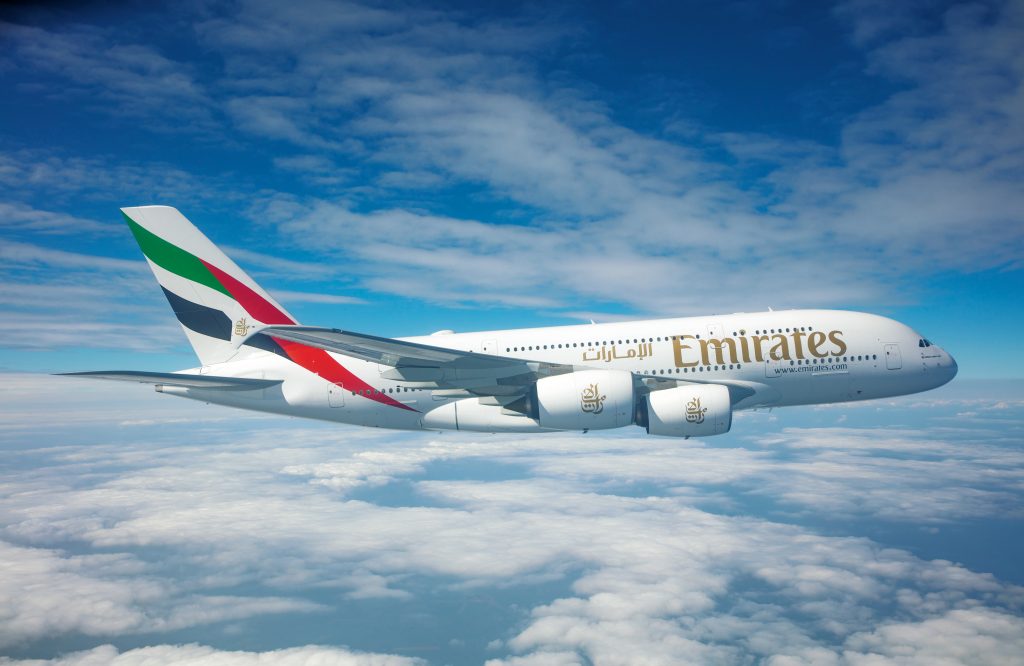 Emirates
Airlines
          The airline Emirates founded in the year 25th March 1985,and took commenced operations in the year 25th october 1985,which its headquarters is at Garhou,Dubai United Arab Emirates,there are around 59,519 employees are serving at the Emirates airlines.The Emirates Sponcers Cricket Australia,Lords Taverners and pro Arch Tournaments,The deal gives Emirates association with all major ICC tournaments.
Services
of Emirates Airlines
                     There are two types of first class seatings ,the fully enclosed with celing to floor door and private suite with doors that close but don't extend to the ceiling,both came to ensureprivac and mini bar,a coat rack and storage.Emirates also offers special meals options,in all classes,based on age and dietary restrictions,Specials meals must be ordered atleast 24 hours before the flight departure time,All meals however are prepared according to Halal dietary guideness.
Flight Status
                    The Emirates is the largest airline and flag carriers of United Arab Emirates,based in Garhoud Dubai,The Emirates Group is owned by the Government of Dubai,It is also the largest airline in the Middle East Operating over 3,600 flights per week from its hub to more than 150 cities in 80 countries across 6 continents through its fleet of nearly 300 aircraft.
 
Return and Refund Policy
                   You have the option to keep your ticket and use it at any time in next 24 months .It does not cost extra to change your flights and you can change your own destinations,If you prefer not to keep your ticketsfor later you can complete your form to request refund.
Address
12-13,Riaz Garden,
Cathedral gardens,
Kodambakkam High Road,
Chennai-600034
Tel: +91 446 683 4444
COKCochin                MAAChennai         SMTWTFS                        1,711INR                                             4,156INR
AMDAhmedabad       MAAChennai          SMTWTFS                        2,379INR                                            5,697INR
BOMMumbai              DELDelhi                SMTWTFS                        2,577INR                                            5,581INR
BLRBengaluru           DELDelhi                 SMTWTFS                       2,999INR                                             6,915INR
BOMMumbai             CCUKolkata             SMTWTFS                       3,177INR                                             6,841INR
DELDelhi                   CCJKozhikode         SMTWTFS                       3,177INR                                             6,353INR
CCUKolkata               AMDAhmedabad     SMTWTFS                       3,663INR                                            7,072INR
DELDelhi                    DXBDubai             SMTWTFS                         6,115INR                                         1,32,153INR
COKCochin                DXBDubai             SMTWTFS                         7,015INR                                            21,810INR
BOMMumbai              DXBDubai             SMTWTFS                         7,225INR                                            31,053INR
HYDHydrabad            DXBDubai             SMTWTFS                          7,419INR                                         1,34,240INR
MAAChennai              DXBDubai            SMTWTFS                           7,472INR                                            47,143INR
BLRBengaluru            DXBDubai            SMTWTFS                           9,009INR                                         1,49,110INR
CCUKolkata                DXBDubai            SMTWTFS                          11,180INR                                           15,351INR
MAAChennai              KWIKuwait           SMTWTFS                           26,035INR                                       2,34,844INR
DELDelhi                   JFKNew York        SMTWTFS                           38,513INR                                       2,75,647INR
BOMMumbai             JFKNew York        SMTWTFS                           39,040INR                                        3,27,067INR