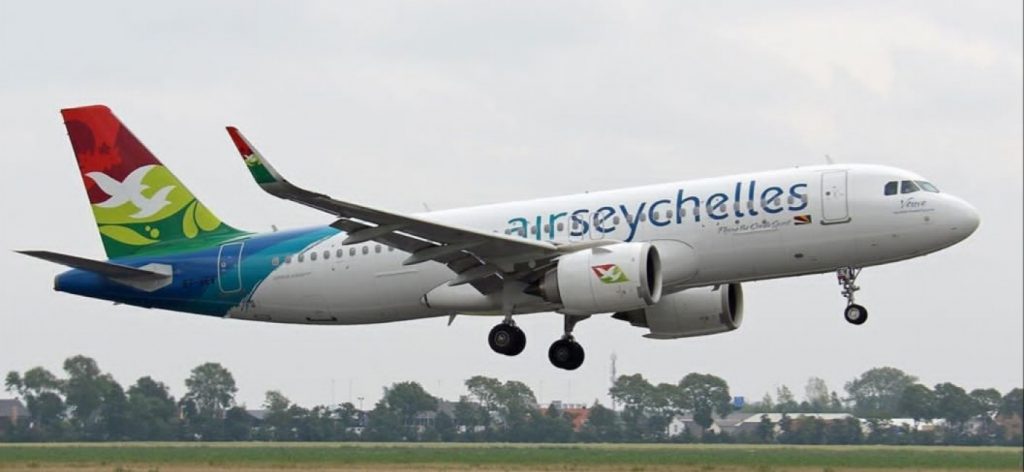 Air
Seychelles Airlines
              It is the national airline of the reoublic of Seychelles.Its head office is locatedat Seychelles International Airport on the island of Mahe.and it operates inter-island and international flight and charter flights.The airline is currently 40% owned by Etihad Airways.It is founded in the year 1977.The Seychelles government merged Air Mahe and Inter-Island Airways created on 15th september 1977,It renamed Air Seychelles in September 1978.
Services
by Air Seychelles Airline
             Air Seychelles offers special meals for guests who has special dietary,religious or medical requirements,All requests should be made before 24 hours before departurethrough travel agency.Each seat has comfortable 32 inch adjustable headsets and USB Port,Be entertained with movies popular tv shows etc.., 
Flight Status
          The Flight is operated by 60% of Government of Seychelles.It also operates flights for 6 destinationations for several countries.I t flies to 10 cities and has 10 flights.In the Year of 1983 It began its international flights to Frankfurt and London.
Refund Policy
           Unlimited date changefor free for upto 31st Dcember 2021,Requests refund for ticket cancellation of flight,Refunds may take upto 6 months to process.Passengers holding a seperate domestic ticket will still have applicable change fees. Date changes are only permitted more than 3 daays to departure and meed to provide proof and documentation of certification.
ADDRESS
Global Air Transport Service Pvt.Ltd.(Southern India),
Global House,
733 Anna Salai,
Chennai-600006
Tel:+044 4295 9632/9696
Email:vasumathi@globalaviationindia.com
BOMMumbai        DARDar Es Salaam    SMTWTFS                        29,982INR                                           50,331INR
BOMMumbai        JNBJohannesburg      SMTWTFS                        30,307INR                                        1,39,756INR
BOMMumbai        MRUMauritius             SMTWTFS                         31,681INR                                       3,88,534INR
DELDelhi              DARDar Es Salaam    SMTWTFS                        33,020INR                                       1,43,270INR
DELDelhi              JNBJohannesburg      SMTWTFS                         34,168INR                                       1,20,180INR
BOMMumbai        SEZMahe Island         SMTWTFS                         38,904INR                                          68,218INR
HYDHyderabad    JNBJohanesburg        SMTWTFS                         41,931INR                                          63,843INR
DELDelhi              MRUMauritius             SMTWTFS                         42,608INR                                       3,44,637INR
DELDelhi              SEZMahe Island          SMTWTFS                        45,965INR                                        1,33,306INR
BOMMumbai        TNRAntanarivo            SMTWTFS                        59,841INR                                        4,40,123INR