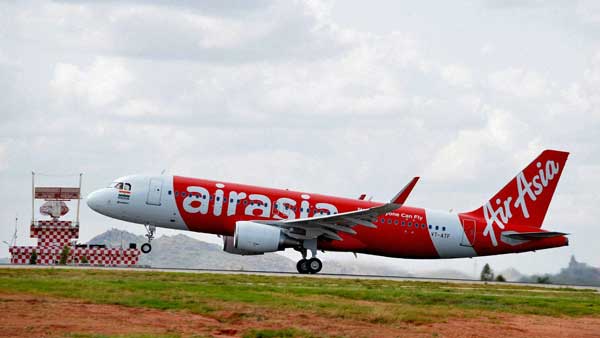 Air
Asia Indian Airlines
               Air Asia India is an airline in India headquarted in Banglore,Karnataka.The airline is a joint venture with Tata Sons holding 83.67% stake in the airline and Air Asia Invested Limited holding 16.33% stake,It is founded in the year of 28th March 2013 and it started itas commenced operations on 12 June 2014 with Banglore as irs primary hub.

The operating bases are in the Airport of Banglore,Mumbai,Delhi and Kolkata.
Services
of Air Asia India Airline
               Air Asia features only Economy class on its fleet each of its seats 180 passengers,Passengers on AirAsia India flights need a valid national ID to travel,but the flight doesnot feature  inflight services,AirAsia offers meals,However they need to be pre booked or paid for and aren't for complementory.
 Flight Status
               Air Asia is the first foreignairlinr setup a subsidiary in India and the company marketed the Tata Group return to the Aviation Industry after 60 Years  having ceded Air India in 1946 as og June 2020 Air Asia is the 4th largest carrier in India after Indigo Spicejet and Air India with its Market share of 7.2%,Air Asia operates over 200 daily flights connecting 21 destinations connecting India.
Refund Policy
            Refundable tickets may be more expensive than non-refundable ones but they will save money spend as cancellation fees.If you buy a refundable ticket and wish to calcel the flight the extra charges cannot be charged for the cancellation fees,For booked tickets no extra charges fee will be charged if the ticket is cheaper than the previous ones the refund will be initiatiated with in 3 month from the purchase of new ticket was issued.
ADDRESS
123/124,
Ispahani Centre,
Nungambakkam High Road,
Chennai-600034,
Tamil Nadu
Tel:044 33008000
Email:india_salessupport@airasia.com
MAAChennai          BLRBengaluru         SMTWTFS                         875INR                                                 7,201INR
BLRBengaluru        MAAChennai           SMTWTFS                         877INR                                                 3,556INR
COKCochin            BLRBengaluru          SMTWTFS                       1,292INR                                                3,422INR
BLRBengaluru        COKCochin              SMTWTFS                       1,372INR                                                3,863INR
GOIGoa                  HYDHyderabad        SMTWTFS                       1,376INR                                                8,419INR
BLRBengaluru        PNQPune                 SMTWTFS                       1,650INR                                                6,539INR
BLRBengaluru        GOIGoa                    SMTWTFS                       1,651INR                                                4,291INR
COKCochin            MAAChennai             SMTWTFS                      1,673INR                                                 4,157INR
GOIGoa                 BLRBengaluru           SMTWTFS                       1,804INR                                                20,705INR
MAAChennai         COKCochin                SMTWTFS                       1,915INR                                                 4,991INR
BLRBengaluru       TRZTiruchirapally       SMTWTFS                       1,960INR                                                 3,324INR
BLRBengaluru       CJBCoimbatore         SMTWTFS                        2,178INR                                                 4,607INR
COKCochin            TRVTrivandrum          SMTWTFS                        2,214INR                                                 8,756INR
MAAChennai          NAGNagpur               SMTWTFS                        2,423INR                                                 7,096INR
COKCochin            PNQPune                   SMTWTFS                        2,469INR                                                 6,493INR
MAAChennai          VGAVijayawada         SMTWTFS                        2,496INR                                                 7,978INR
MAAChennai          CCJKozhikode           SMTWTFS                        2,528INR                                                 4,680INR
COKCochin             IXEMangalore            SMTWTFS                        2,635INR                                                 5,260INR
BLRBengaluru        JAIJaipur                    SMTWTFS                        2,936INR                                                 6,915INR
COKCochin             VTZVishakapatnam    SMTWTFS                        2,959INR                                                5,364INR
JAIJaipur                 BLRBengaluru           SMTWTFS                        3,144INR                                               10,545INR
GOIGoa                   VGAVijayawada         SMTWTFS                        3,484INR                                                8,437INR
COKCochin             NAGNagpur                SMTWTFS                       3,641INR                                                 5,575INR
COKCochin             BBIBhubaneshwar      SMTWTFS                       3,724INR                                                 5,575INR
GOIGoa                   CCUKolkata                SMTWTFS                       3,850INR                                               10,913INR
GOIGoa                   CCUKolkata                SMTWTFS                       3,850INR                                               10,913INR
GOIGoa                   CCJKozhikode            SMTWTFS                       3,895INR                                                 5,742INR
GOIGoa                   PATPatna                     SMTWTFS                      4,144INR                                               15,978INR
IXCChandigarh        RPRRaipur                   SMTWTFS                     4,503INR                                                 6,472INR
JAIJaipur                TRVTrivandrum              SMTWTFS                     4,808INR                                                 7,353INR
IXCChandigarh        BLRBengaluru              SMTWTFS                     4,832INR                                                 7,810INR